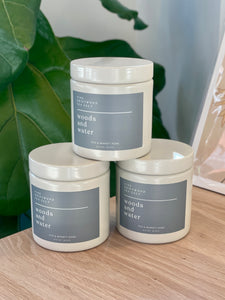 One of our top sellers!  A special blend of pine, driftwood and sea salt.  The scent of Maine, for sure.  Made just for us by Near & Native.
Near & Native is based locally here in Portland, Maine.  What began as a handmade jewelry company slowly grew to incorporate a line of coconut wax candles inspired by the woods, oceans, and mountains of our beautiful state.  
10 oz candle, cotton wick, recyclable tin vessel
Bet you didn't know...
- during the refining process of coconut wax the scent of coconut is removed
- coconut wax has a relatively low melting point, which means your candle will not tunnel as you burn it