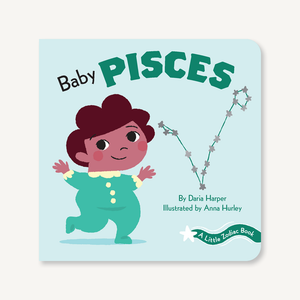 A Little Zodiac Book: Baby Pisces - By Daria Harper ; Illustrated By Anna Hurley

With rhyming text and adorable art, this Little Zodiac book shares what is special about being a compassionate and creative Pisces (born February 19 – March 20).

Little Zodiac Board Books are a sweet and starry-eyed series with one book for each astrological sign. They offer a sweet and accessible introduction to a baby's first horoscope. Discover what is written in the stars for your little one!

Perfect for children ages 0 to 3 years old

Measures 5"x5"