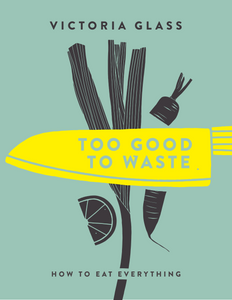 Make food waste a thing of the past, with this guide to getting the very most out of your food, in the most delicious way possible.

We've all heard of nose to tail eating, but if you thought it was just about what comes from your local butcher, think again.

So much good food is thrownaway when actually, with a bit of creative thinking, you can eat up everything – and enjoy a much more exciting meal for it. Take the uninspiring pumpkin. While Pumpkin Maple Cheesecake is a fun new way to use the flesh, Pumpkin Skin Chutney and Pumpkin Seed Energy Balls will help you use every last bit of your veg.

Nothing escapes Victoria Glass's attention: stale bread is transformed into Treacle Tart with Brown Bread Ice Cream, strawberry tops are brewed to a delicious tea; leftover chicken fat can make the crispiest roast potatoes; and vegetable peelings turn into delicious crisps.

This book isn't just about saving money – though it's a welcome side-effect of these brilliant recipes. It's about rethinking what we throw away, and why. By taking this waste-free approach, these recipes are some of the most inventive and innovative that you will ever try, and can show you a whole new way to think about your meals. Supported by tips and tricks to help you get the most out of every item in your shopping trolley, this is a playful new guide to revolutionise your kitchen.