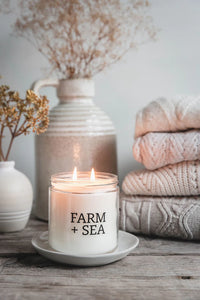 Fresh zing of pink grapefruit blended with a bite of pine is surprisingly lovely and fresh!
Utilitarian-style lidded candle jars are the perfect complement to any decor and are meant to be enjoyed every day.
Made with a custom blend of coconut and soy waxes, premium, phthalate-free fragrance oils and essential oils, and cotton wicks.
Made in small batches in Amesbury, Mass by Farm + Sea.
Trim wick to about 1/4 inch before each burn, to help encourage an even melt pool and minimize smoking. Do not leave a burning candle unattended, and keep out of reach of children, pets, and drafts.