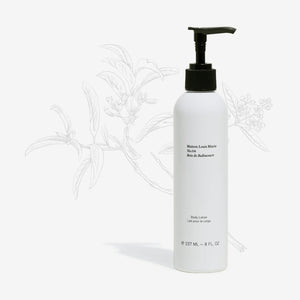 Surrounded by an ancient mysterious forest, Balincourt is the name of our family home where we took long walks on a magical trail called 'Lover's Lane'. This romantic scent is a Sandalwood fragrance with a dominant Cedarwood and Sandalwood accord that's supplemented by a spicy Cinnamon Nutmeg complex with an earthy Vetiver note.
Top note: Sandalwood, Cedarwood
Mid note: Vetiver, Nutmeg, Cinnamon
Our lotions are fomulated with plant derived ingredients that include a special blend of Organic Jojoba, Sunflower and Organic Avocado oils to achieve maximum deep moisturization of the skin and also infused with Green Tea, Cucumber, Oats and Blueberry for additional effectiveness that are rich in Vitamin A & E and antioxidants. Wonderful for all skin types our formulas balance oily skin, soothe sensitive skin, hyrdrates dry skin helping your skin regenerate and rejuvente all while leaving you delightfully scented. Our lotions are free of parabens, phthalates, silicones, phenoxyethanol & glycol.